Non-contact thickness & distance measurement with CHRocodile Mini
The CHRocodile Mini offers great flexibility in a small space and is ideal for precise and stable thickness and distance measurements on any kind of material.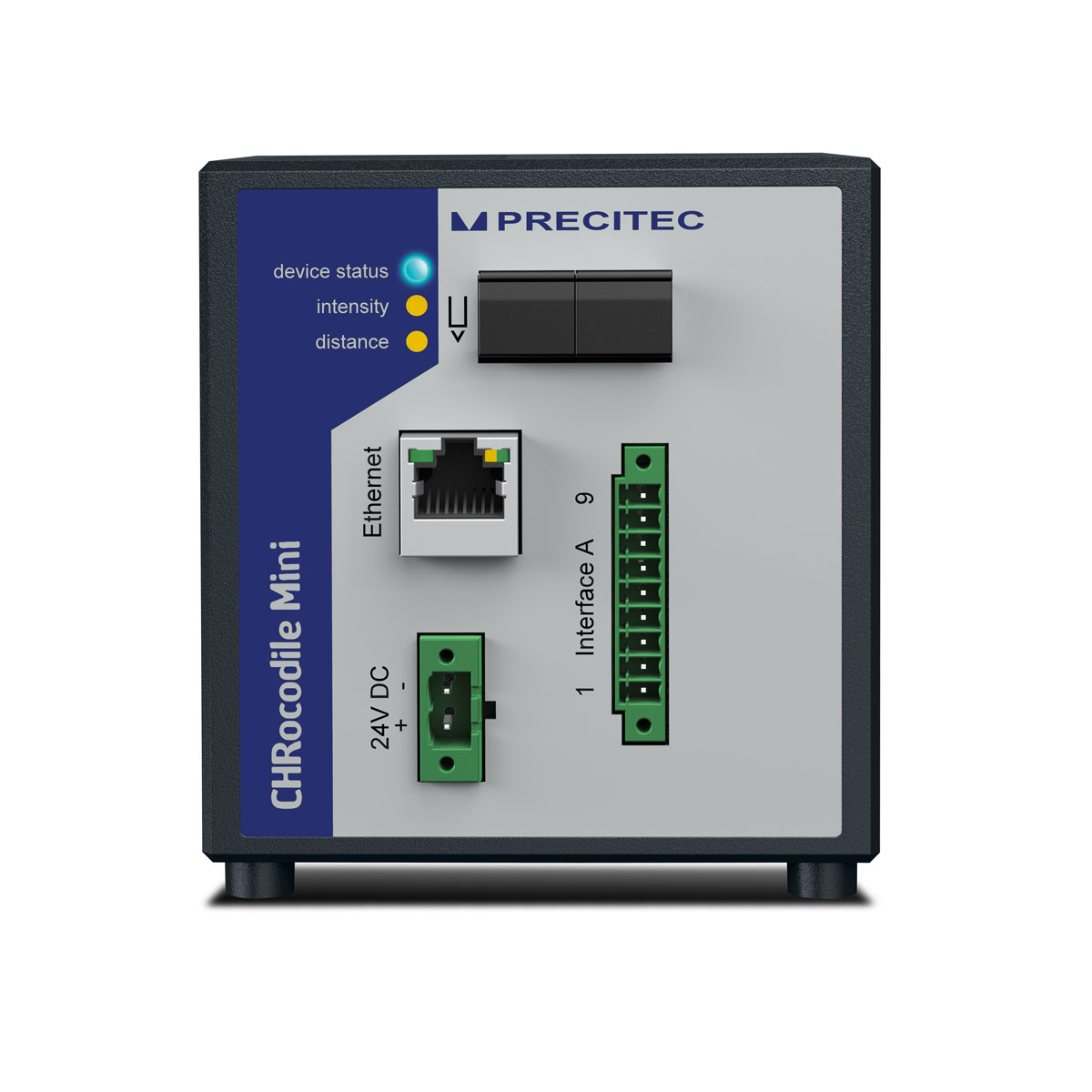 Low-price, state-of-the-art chromatic confocal technology solutions
As a powerful low-price alternative to laser triangulation sensors, the state-of-the-art chromatic confocal sensor CHRocodile Mini uses high-performance optical lenses to focus white light at different distances along the optical axis. Another advantage of coaxial measurement technology is that it avoids shadowing effects.
Lightweight confocal sensor with small footprint
Weighing just 500-550 g and with dimensions of 95 x 106 x 95 mm, the CHRocodile Mini is the ideal lightweight and ultra-compact confocal 3D sensor for inline inspection applications. The optical probe and controller are separate and can be integrated into almost any small, tight space. What's more, the probe contains no moving parts, no electronic parts and no indicators that would generate heat and could impact the accuracy of the measurements.
High-precision measurement, regardless of the material
Precise and stable measurements are possible on any kind of material – opaque or transparent, diffusive or reflective, shiny or light-absorbent, flat or curved, rough or polished – and any surface, e.g. mirrored, unfinished metal, ceramic and adhesive surfaces. Various optical probes enable a wide range of distance and thickness measurements.
NEW easy-to-use, plug-and-measure application software
The new intuitive software myCHRocodile comes with several preinstalled settings, while application-specific settings can be easily selected using the drawings and short explanations supplied with the device.
Product variant CHRocodile Mini+
A product variant with the same dimensions, the CHRocodile Mini+, comes with more interfaces (three encoder ports, analog output, digital in/out ports), which makes it even easier to integrate the CHRocodile Mini+ into any kind of inspection machine.
Whichever model of confocal sensor you choose, it's a win-win situation for both integrator and end user.
Also available as OEM version
Measurements per second: up to 4,000 Hz (optional upgrade 10,000 Hz)
Measuring range: 0.6 – 10 mm (depending on optical probe deployed)
CHRocodile Mini interfaces: Ethernet, RS422
CHRocodile Mini+ interfaces: Ethernet, RS422 + 3 encoder ports + analog output + digital in/out ports
Our service for your productivity
These sectors may also be interesting for you
We are glad to help you with any questions you may have.