Optical metrology glass production
High-speed glass thickness measurement
How do you measure the wall thickness of glass containers in inspection machines? Our state-of-the-art contact-free sensor systems can measure the thickness and topography of glass of any color or surface. Even the circular deviations of bottles or the wall thickness of hot quartz pipes or PVB foils in pre-fabricated multi layers, e.g. HUD windshield films, can be measured.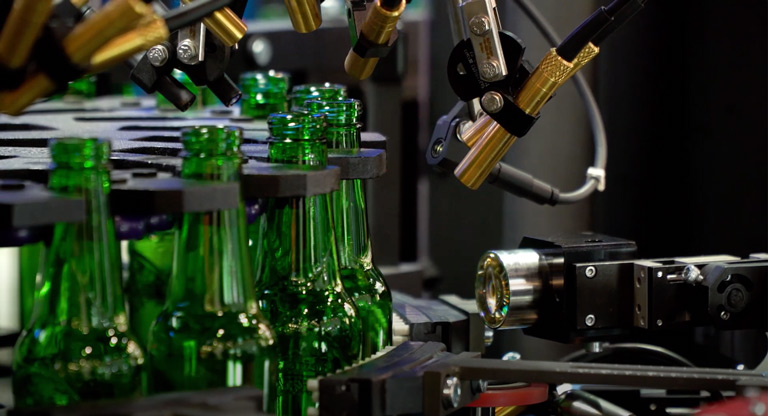 What's more, these contact-free sensors do not heat up – even at glass temperatures of 1,700 °C. Moreover, contact-free glass thickness measurement offers the great advantage of an ultra-high-speed process, which brings vital productivity gains.
Our CHRocodile MPS 2L sensor, the glass industry-standard for stop-and-rotate-machines, delivers 4,000 measurements per second in different positions through its integrated optical probes.
Our CHRocodile 2 IT series can measure distances and thickness of 0.6-15,000 µm with measuring rates of up to 70 kHz. And with a spot size of only a few hundredths of a millimeter even the tiniest fault in the glass can be identified.
3D Metrology – Applications at a Glance
3D Metrology – Industries at a Glance