High-speed non-contact smartphone inspection
Optical 3D metrology for consumer electronics
Today's smartphones are high-precision devices made of many different materials. Inspecting the quality of their assembly is therefore of utmost importance. As smartphones are mass-produced, measurements have to be carried out at high speed.
Precitec's non-contact optical sensors have the great advantage of not touching delicate components during inspection. Curved smartphone displays, phone housing, camera modules with precisely aligned components or battery cells with coated metal foils: whatever the application, Precitec has the ideal solution for accurate height and thickness measurements.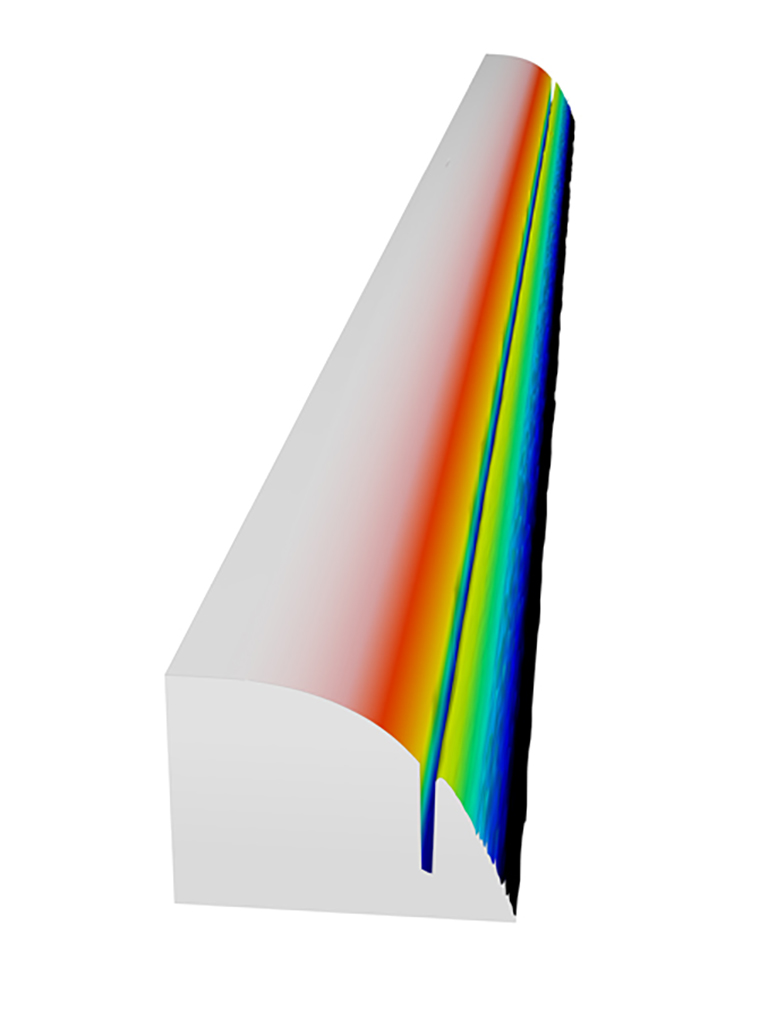 Measuring gap width and offset height
The width of the gap between the front or back glass and the outer frame of a smartphone defines its appearance and haptics. Measuring this width on the mostly highly curved edges of the glass is a huge quality assurance challenge. The CHRocodile CLS confocal line sensor is the ideal solution for this task, as it ensures repeatability to within a few µm while measuring at 1.13 megapixels per second and running at 6 kHz. It is therefore perfectly suited to being integrated into a production line.
In addition, the CHRocodile CLS can measure a wide variety of materials, e.g. reflective glass and various metal surfaces, and even does that on inclined surfaces. Last but not least, its high true lateral resolution – to within as little as 1 µm – enables precise measurement of not only offset height but also lateral dimensions.
Have a look at the CHRocodile CLS product video for more measurement details.
Measuring camera module step height
A camera module consists of various mechanical parts that must be of a specified height in relation to the back glass. The key challenges here are repeatability to within few µm, the different materials in use (e.g. reflective or matt glass, metal or glass with an anti-reflecting coating) and the large surface that has to be measured inline within a short time.
The Flying Spot Scanner measures the step height of the different parts along a predefined scan path in a minimal cycle time with samples passing by at up to 3 m/s.
Watch this video to find out more about the Flying Spot Scanner measurement technology.


Measuring the thickness of plastic coatings
A plastic insulator shields the metal housing of a smartphone from the antenna. A polyurethane (PU) coating is applied to the inside of the smartphone housing to seal this metal-and-plastic joint.
The height and lateral thickness of this thin coating (10-120 µm) have to be measured in a short cycle time and at various locations. The Flying Spot Scanner measures the layers precisely with the required repeatability and short cycle time.
For protection and insulation purposes PCBs are coated with protective lacquers of a prescribed thickness, which has to be complied with. Non-contact thickness measurements are ideally suited to check whether the PCBs are properly protected.
Lens tilt measurement in a smartphone camera objective
A smartphone camera consists of various lenses. A precise positioning of each lens is crucial for sharp, distortion-free images. After positioning, the tilt of each lens has to be measured with great accuracy. All lenses have different diameters and each lens has to be checked at four points. The Flying Spot Scanner achieves the required repeatability to within a few µm.
By drawing one profile horizontally and one vertically across the lens immediately after positioning, the Flying Spot Scanner measures inline in a very short cycle time – and the next lens can be positioned immediately afterwards. The Flying Spot Scanner's long working distance facilitates integration into production equipment.
The Flying Spot Scanner's telecentric optics ensure that there is no shadowing and the various inspection locations can be easily covered. An additional advantage is that the step heights inside the lens barrels can be checked in exactly the same way.
Find out more about the Flying Spot Scanner's measurement technology in this video.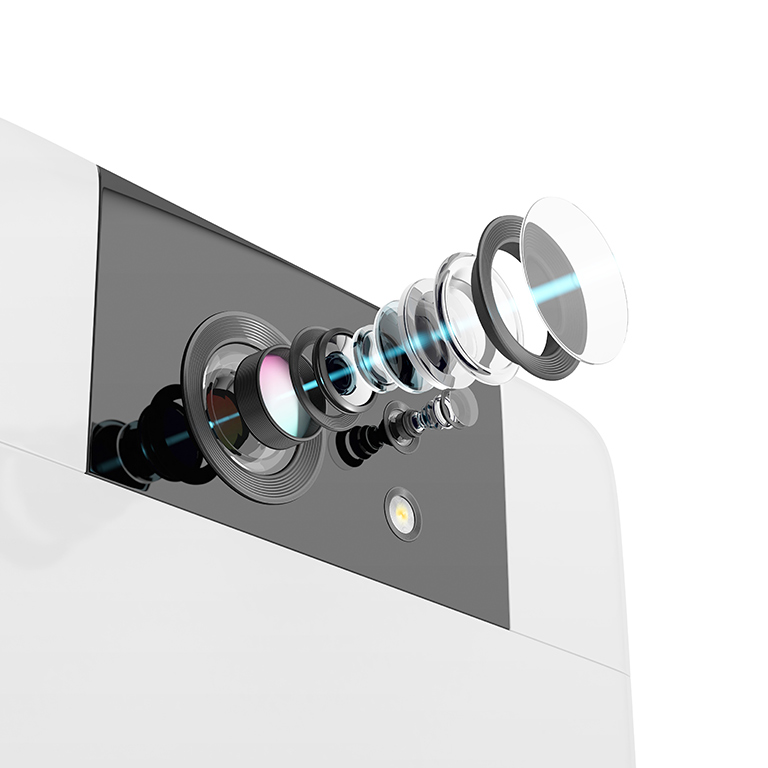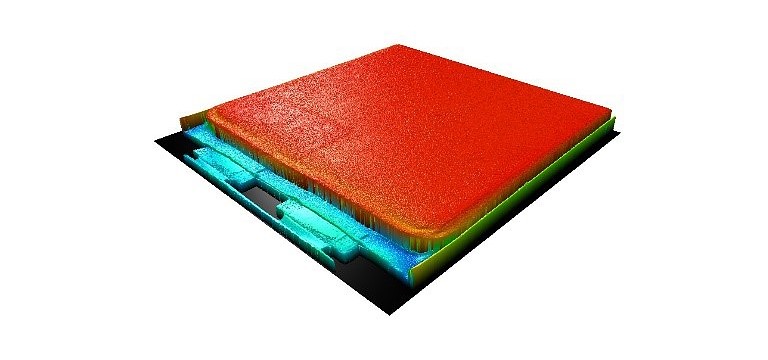 Safe battery production
Only through precision production is it possible to manufacture batteries safely and cost-effectively. Precitec offers a wide range of solutions for series production of batteries.
The thickness of the graphite coating and its distribution at the edges have to be controlled during production of electrodes and the subsequent cutting operation. Additional tests are carried out to condition the cells for quality assurance purposes, e.g. changes of volume or surface during charging and discharging of the battery. Precitec's non-contact optical sensors are especially suitable for such measurements.
High-quality haptics and optics for smartphone housing
Sharp edges at the various in- and output ports of a smartphone or any visible scratches will negatively affect the user experience. That is why flaws and defects have to be detected and faulty parts removed from the production line at an early stage.
The Chromatic Vision Camera (CVC), Precitec's solution for 2D inspections, has an ultra-fast cycle time of up to 140 kHz and an outstanding depth of field of up to 3 mm. The CVC enables measurements of the geometries of SIM slots, loudspeaker ports and the charging port height, for example. This enables the scratch and defect inspection process to be automated to assure the required product quality.
For more Chromatic Vision Camera applications click here.


High-precision measurement of color coatings for smartphone back glass
Precitec has developed a patented measuring method to inspect the different color layers of a smartphone's rear glass. The individual color layers are measured through both transparent and non-transparent layers in the sub-µm range.
Precitec provides this innovative optical metrology to ensure uniform coloring of the coating and an optimal product look.
In consumer electronics field we have a lot more to offer...
...as multiple production steps are commonplace here. Our laser welding and cutting technology also supports fully automated production systems in meeting the highest quality requirements.
Take a look at how you can benefit from Precitec's comprehensive laser welding & quality control solutions!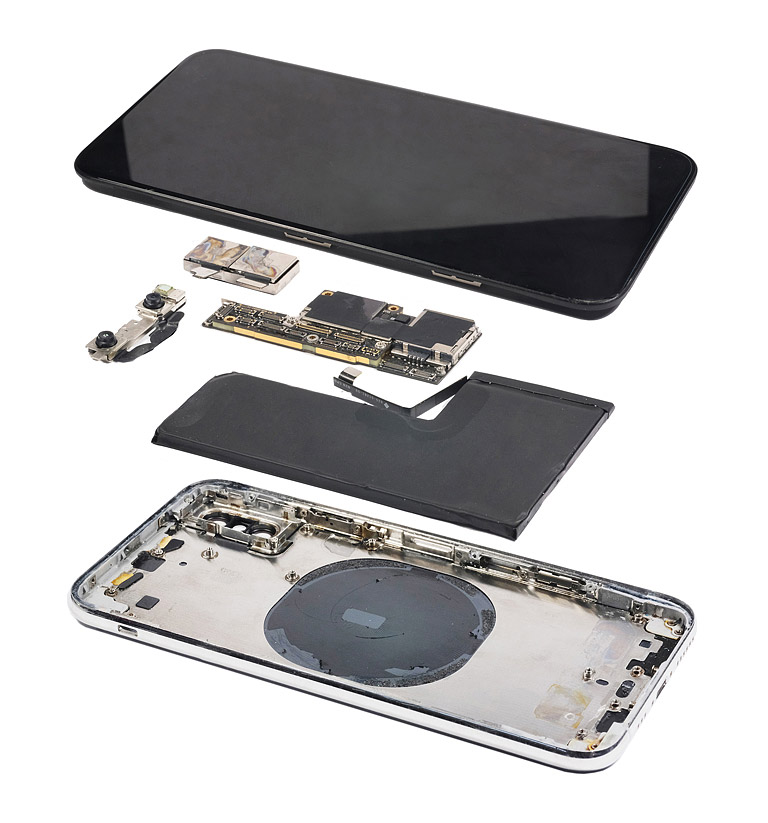 3D Metrology — Applications at a Glance
3D Metrology — Industries at a Glance