Do you fancy international radiance with a family flair?
Come and join us.
More than 750 employees from 28 nations work for us. A large international team that makes us proud and underpins our leading global position in the fields of laser technology and optical metrology. However, this success has not made us forget what has made us strong as a medium-sized family business with regional roots: Cohesion, agility and a strong spirit of innovation. Based on these strengths, we want to lead Precitec together into a successful future and are looking for people who share the same values with us.
You will work for an innovation leader that is active in growth fields and offers you
a secure professional home.
You will be involved with world-renowned companies within exciting projects.
You will experience how our in-house research and development deals with the latest technology trends - whether AI, IoT or Industry 4.0.
Despite our size, you benefit from short decision-making paths.
With our products, you ensure that energies and resources are saved - for climate-friendly and sustainable production at our customers.
Are you curious? We currently have these vacancies.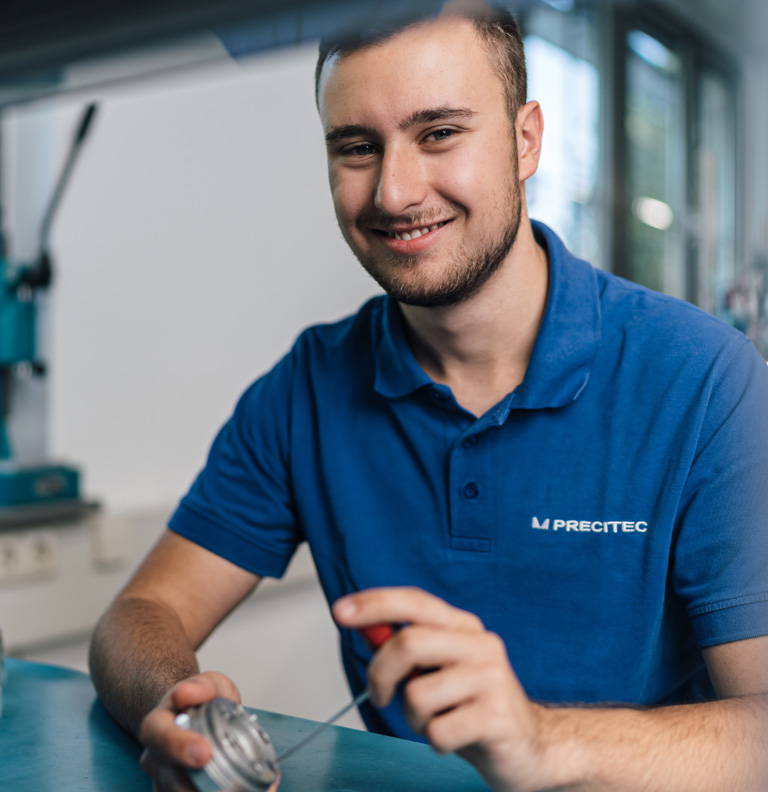 Our motto is: We can do it! With this "can-do" mentality, we head for clearly defined goals and sometimes take new paths to achieve them. Passionate. Solution-oriented. Reliable. With a touch of humor, a lot of things are easier then. Everyone contributes their strengths to the success of the team, and our cooperation is characterized by an open feedback culture. And: We stick together at Precitec! This is also reflected in our flexible working time models, which make it possible to combine family and career, to return to work after parental leave, or to care for family members.
Sound like a good fit?
These are the entry-level opportunities you have with us.
What do you bring with you?
Everyone has their own attitudes, talents, ideas and qualifications - and that's just the way it should be. Precitec offers very different people the opportunity to get started with us. In other words: we live diversity. Not only because it is part of our internationality, but also because we believe that there is great creative potential in diversity. Just like mistakes, by the way: We learn from them and do things better in the future. Are you curious about the challenges of tomorrow, do you like to take on responsibility and do you want to make a difference in our industry as part of a team? Then Precitec is the right place for you.
You want to learn more? These are the benefits we offer you.
Which job offer suits you?
For exciting personalities, skills and resumes, there is usually always a suitable position with us. So if you don't see anything suitable in our job offers, we still look forward to receiving your unsolicited application.
If you have any questions, we will of course be happy to help.
Your Recruiting-Team: