2-in-1 solution for layer thickness and step height measurement
The CHRocodile 2 DPS is the ideal fit for two-sided thickness measurement of non-transparent materials or thick transparent layers that can not be measured by a single probe.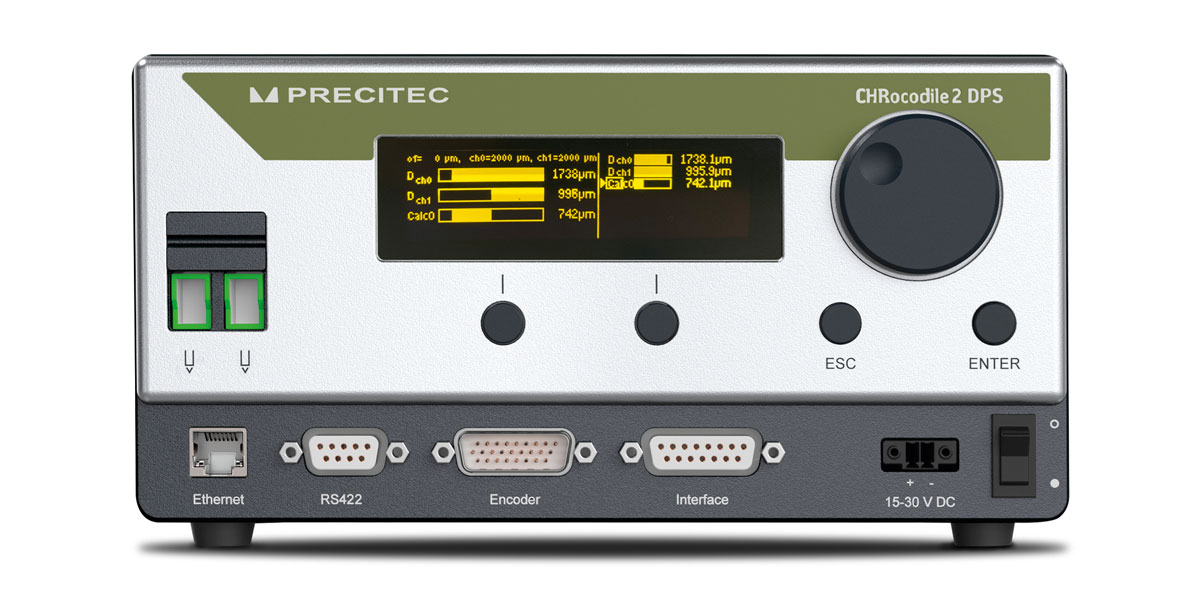 Cost efficiency

For step height, multilayer measurement, and thickness measurement of non-transparent materials the CHRocodile 2 DPS incorporates two individual channels in one device. This brings the benefits of a smaller footprint, easy integration into a production environment, and above all, cost efficiency.
Direct output of result

An embedded processor takes signals from the two measurement channels, synchronizes and automatically references the data, and then displays the required thickness or step height measurement, no post processing is needed. This makes CHRocodile 2 DPS the ideal fit for two-sided thickness and step height measurement of non-transparent materials or multilayers where the thickness exceeds the measuring range of a single probe.
Various fields of application

Compatible with all chromatic confocal optical probes, the CHRocodile 2 DPS offers you the advantages of a measuring rate of 10 kHz per channel, numerous interfaces, a numerical aperture of up to 45° on reflecting and up to 80° on dispersive surfaces, high axial and lateral resolution, and a measuring range of 100 µm to 35 mm.
Exactly the right optical probe for your needs

Each one of our single point sensors consists of a controller, an optical fiber, and an optical probe. From our large selection of optical probes we can ensure a custom solution to suit your requirements. A list of our chromatic confocal probes can be downloaded here.
Measurements/second: up to 10 kHz per channel
Chromatic measuring range: depends on selected optical probe
Resolution: 3 x 10-6 x upper measuring range limit; higher resolution upon request
Synchronization with external devices: trigger input, synchronizing output, 5 encoder inputs
Our service for your productivity
These sectors may also be interesting for you
We are glad to help you with any questions you may have.