Ultra-fast distance measurements of almost all materials
How chromatic confocal sensor technology works
A polychromatic light source illuminates the surface of the object in question. This light is focused at different distances depending on the wavelength and only the light of a very narrow wavelength range is focused on the surface to be measured, with the remaining light concentrically distributed around this focus point onto a larger area. By determining the wavelength of the focused light, which is reflected back into the optical system, very precise distance measurements are possible at up to 70 kHz and in nanometer resolution. The distance is chromatically coded in the measuring range and the optical probe, which is connected to the sensor unit by an optical fiber, determines the measuring range or focal depth of the spectrum.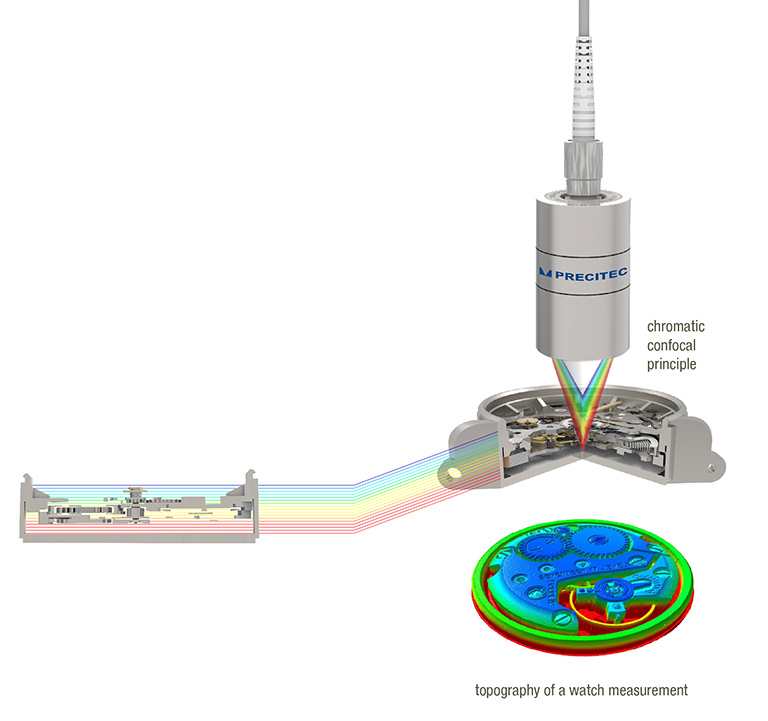 The high numerical aperture of the probes and the dynamic range of the sensor assure that nearly all materials can be measured. This measurement technology is much more reliable in all environments than common laser-based triangulation methods.
Advantages of chromatic confocal sensors
High-speed inline inspections at up to 70 kHz
Passive optical probe – compact and passive, no wear and tear
Chromatic depth scanning with no moving parts
Measurement possible on any kind of material – absorbent or colored, diffusive or reflective, rough or polished
Shadowing effects avoided
Very high slope acceptance and high numerical aperture: up to 45° on reflective surfaces and >80° on diffusive surfaces
Extremely high Z-axis resolution and accuracy
For more information on how you can benefit from our chromatic confocal sensors view our product detail pages.
Chromatic Confocal Sensors
Further Technologies in Optical Metrology