Quality control via distance measurement sensor
CHRocodile sensors have proven their operating capabilities, measuring performance, and reliability in various industrial applications, such as optical thickness and optical distance measurements. Incorporating high-intensity LEDs, highly sensitive detectors and high-speed electronics in combination with fast Ethernet connection, the CHRocodile 2 S series enables measuring rates of up to 66 kHz.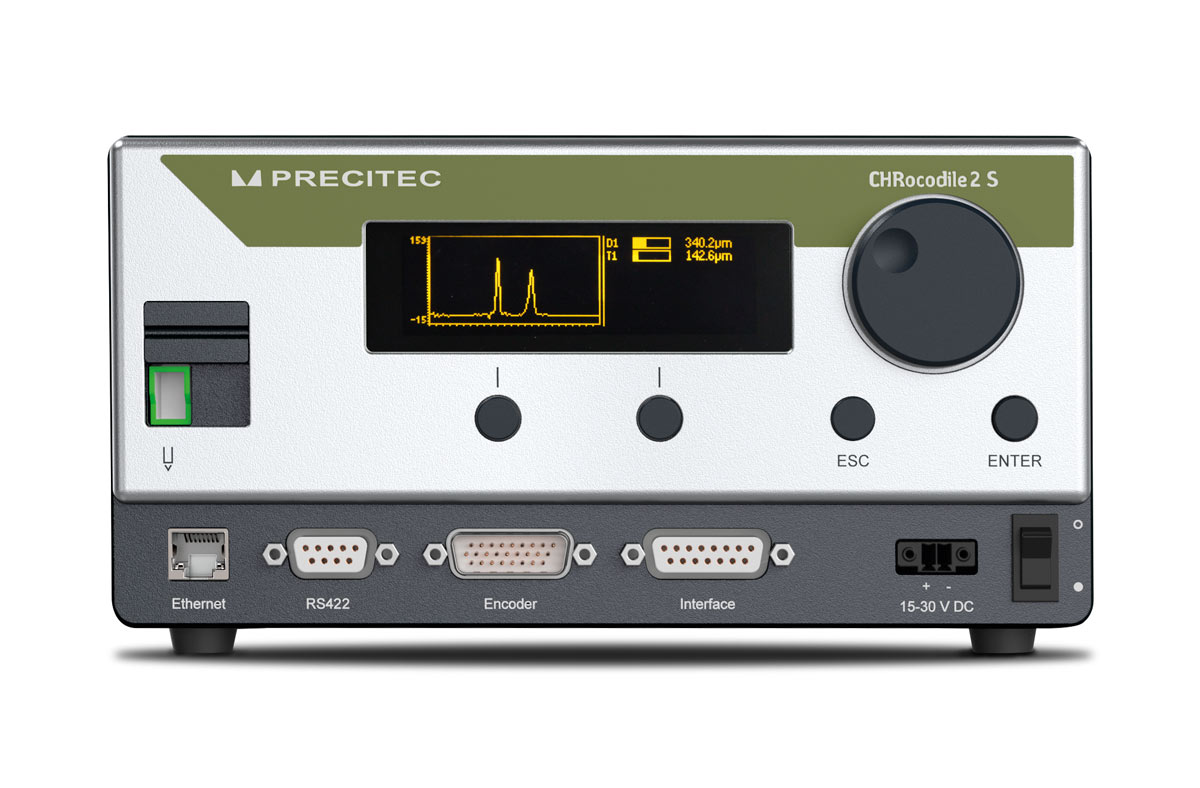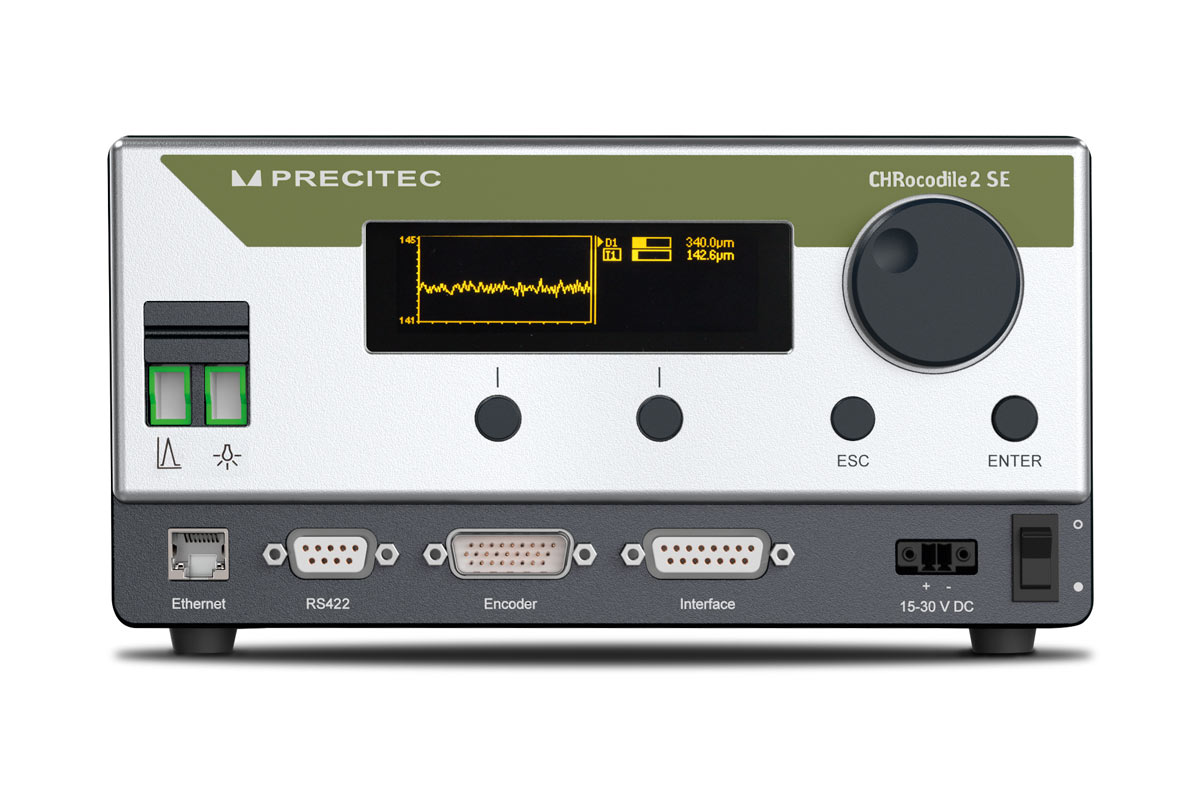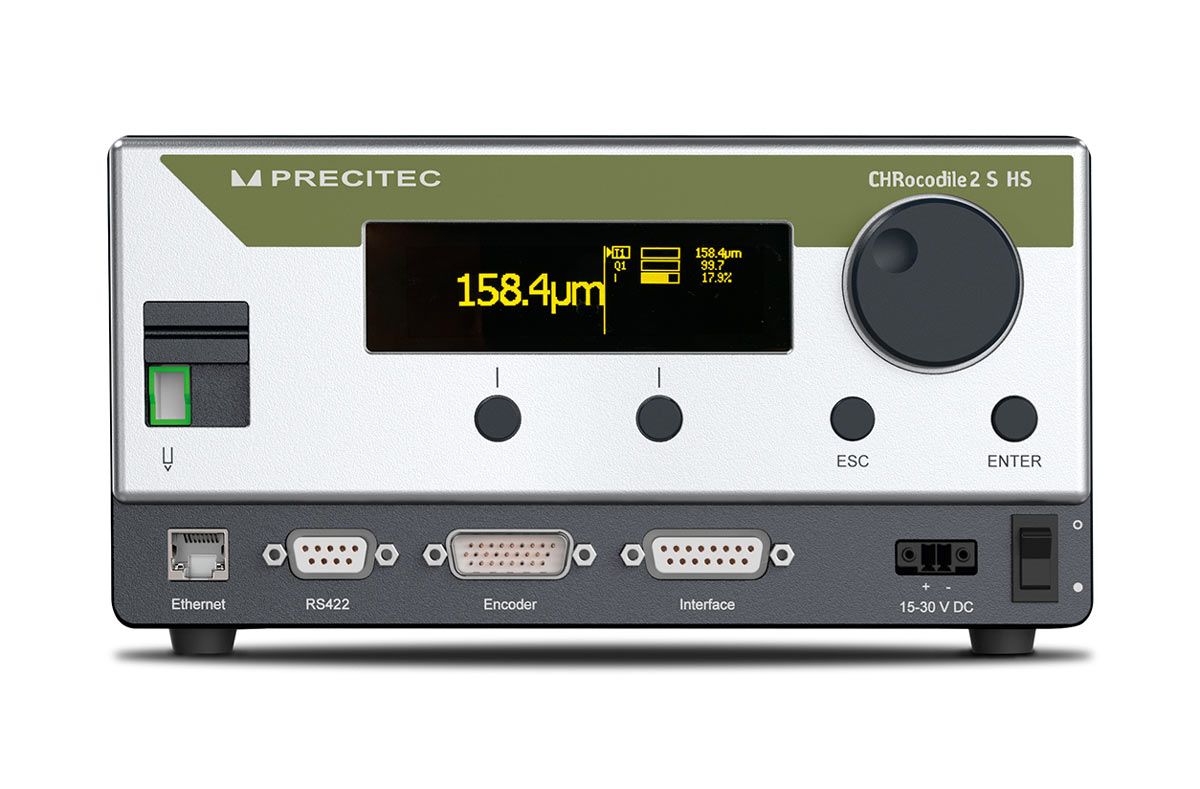 Works on all kinds of surfaces and materials

Whatever surface or material needs measuring, the CHRocodile 2S/2SE/2S HS carries out optical thickness measurement and optical distance measurement at high speeds and with optimal precision. Reflecting or dispersive, opaque or transparent, rough or polished – whatever the surface, the non-contact CHRocodile 2S/2SE/2S HS sensor delivers the optical thickness measurement or optical distance measurement for a variety of industrial applications.
No shadowing effects

Coaxial measurement ensures minimal shadowing. Its external light source also allows very dark materials to be measured very quickly. The passive optical probe has no electronic or moving components and is separated from the controller for easy integrability and a robust measuring performance in production environments. High numerical aperture optical probes deliver measurements at large angles.
Ideal for inline measurements

Another standout feature is the sensor's high axial and lateral resolution. High measuring rates of up to 66 kHz are ideal for inline inspection and control processes.
Measurement at high angles

Precitec high numerical aperture optical probes allow precise measurements, even at high angles. Last but not least, non-contact measuring technology is maintenance free, as there is no wear and tear on the measuring probe.

Variants:
- CHRocodile 2 SE – with external light source for high-speed measurement on dark surfaces
- CHRocodile 2 S HS – distance and thickness measurement for high sensitivity on dark surfaces

Exactly the right optical probe for your measuring task

Each one of our single point sensors consists of a controller, an optical fiber, and an optical probe. From our large selection of optical probes we can ensure a custom solution to suit your requirements. A list of our chromatic confocal probes can be downloaded here.
Measurements/second: CHRocodile 2 S | 2 SE up to 66 kHz; CHRocodile 2 S HS: up to 10,000 Hz
Interferometric measuring range: CHRocodile 2 S | 2 SE: 2 µm - 180 µm; CHRocodile 2 S HS: 1.5 µm - 150 µm
Chromatic measuring range: depends on selected optical probe
Resolution: 3 x 10-6 x upper measuring range limit
Synchronization with external devices: trigger input, synchronizing output, 5 encoders input
Our service for your productivity
These sectors may also be interesting for you