Exciting jobs for upcomers and experts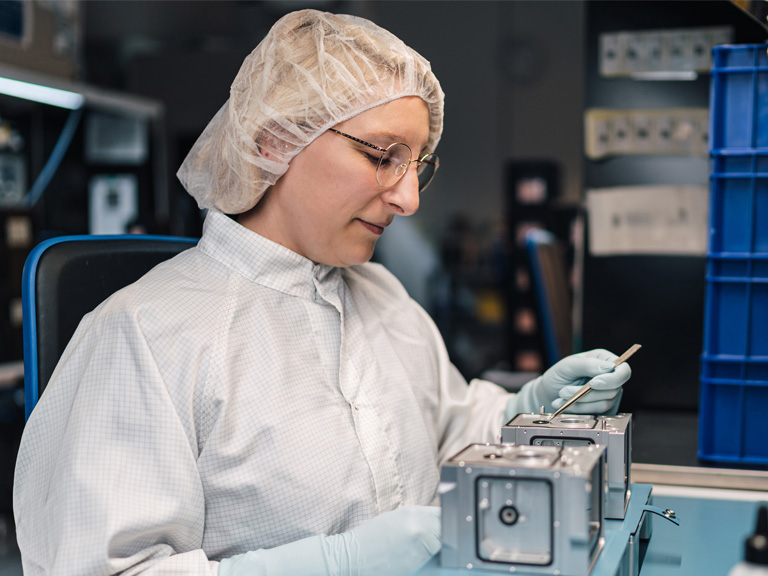 We are an innovation and market leader in the fields of laser material processing and optical metrology. As a global player, we offer key technologies with which our customers improve their products. To ensure that we continue to grow dynamically, we value your knowledge and skills, which you implement with a "can-do" mentality. As an employee with experience, possibly already as a manager, we will hand over to you from the very beginning areas of responsibility which you will be responsible for independently. In this environment, a whole world of exciting options opens up for you.
The way in which you build your career with us individually is naturally a question of your specific qualifications, skills, and wishes. What is certain is that we will do everything we can to help you develop them optimally. Regular target and feedback meetings and our personnel development programs will help you do this.

We support and promote qualified and demand-oriented further education and training measures from programming courses to training as a technician or business administrator. But also social and leadership skills should grow steadily - an intercultural workshop, for example, prepares you for your foreign assignment or cross-national project.

As a family business, we are convinced that the family is a success factor. We want our employees to be happy both in the company and in their private lives. Since life has different phases and presents us with unplanned challenges, we do a lot to help you balance work and family life.
We offer flexible working time models with core and flexitime in all departments. If you need more time at home, for example to care for relatives, we will support you here too with needs-based solutions such as shorter working weeks.
If you would like to take a longer break, for example to realize a life's dream, then take advantage of our sabbatical program. You save up for a certain period of vacation and we give you additional days off.
Your whole family is invited to our annual summer party. It is important to us that your loved ones also get to know our company, your workplace and your colleagues. This highlight in our company calendar is fun for young and old alike.

Sometimes it is difficult to find time for sports and sufficient exercise in many professional tasks. That's why we invest in sports facilities directly at the workplace, not far from it, or in motivating activities that are fun and strengthen the sense of community.
The company's own fitness course, the "moving break" or the running event are very popular. Anyone who wants to stay fit after work or at the weekend can take advantage of our cooperation with local fitness studios and enjoy financial benefits.
Or you can ride your bike to work right away - with our e-bike leasing you will quickly find the right step.
We provide fruit and plenty of drinks. In autumn we offer the possibility of a voluntary and free flu vaccination.