Attractive jobs for beginners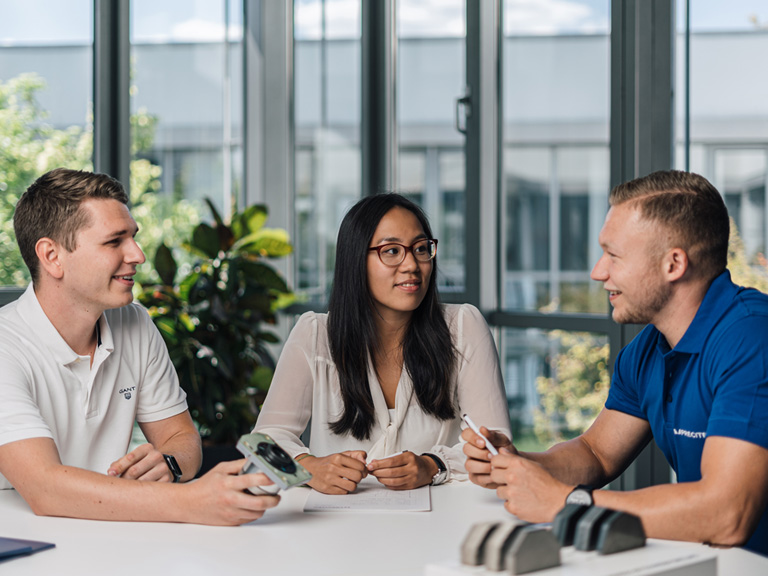 We appreciate your "can-do" attitude, your expertise and your determination. We are also convinced that "learning by doing" is still the best way to get into the saddle as quickly as possible. That's why, as a career starter, you will be entrusted with your personal area of responsibility from the very beginning and will work in a team right from the start.
Your individual induction plan will provide you with orientation. Especially at the beginning, it is important to us that you always have a contact person who can help you. Teamwork and constructive cooperation are among the firm principles at Precitec.

Further and advanced training
You bring qualified training to the start, we give you added value in your field. Further and advanced training are indispensable. Our personnel development programs, and regular target and feedback meetings also help you to keep an eye on your own career and development goals.
Working means lifelong learning. To make this happen, we support whatever helps you advance professionally - from programming courses and workshops for the development of social and leadership skills, to training as a technician or business administrator.

As a family business, we see the family as a success factor. To ensure that the "company" family also runs well at all times, we do a lot to help you balance work and family life.
We offer flexible working time models with core and flexitime in all departments. This means that you can be much more flexible when it comes to bringing children to school or being there for the family in other ways, for example. If you need more time at home, to care for relatives, we can support you here too with needs-based solutions such as shorter working weeks.
If you would like to take a longer break, for example to realize a life's dream, then take advantage of our sabbatical program. You save up for a certain period of vacation and we give you additional days off.
Your whole family is cordially invited to our annual summer party. It is important to us that your loved ones also get to know our company, your workplace and your colleagues. With this highlight in the company calendar, fun for young and old will not be missed out.

You are the sporty type and thus create the perfect balance to the working day in your free time? We think that's good and that's why we offer you an extensive sports programme, if you wish, directly at your workplace, in our partner fitness studio, or through motivating events for fun together with your colleagues.
We also want you to stay healthy with us. That's why we invite you to join in - the company's own fitness course, the "moving break", or the running event are very popular.
For passionate cyclists we have a great option with our e-bike leasing. So you not only save CO2, it is also fun – try it out.
In autumn we offer the possibility of a voluntary and free flu vaccination. We also provide fruit and plenty of drinks.