Practice-oriented training with a future
You attach great importance to practical training – we offer you six exciting future professions.
With a technical or commercial apprenticeship with us, you will actively take your future into your own hands. In addition, with a modern and sought-after profession, you lay the foundation for financial independence and a varied occupation.

Your training company Our apprenticeship professions Interviews Apply Get to know each other

More about what you can expect from us and what we want from you can be found on this page.
If you have any further questions, simply call or meet the training team at one of the many training fairs and events in the vicinity.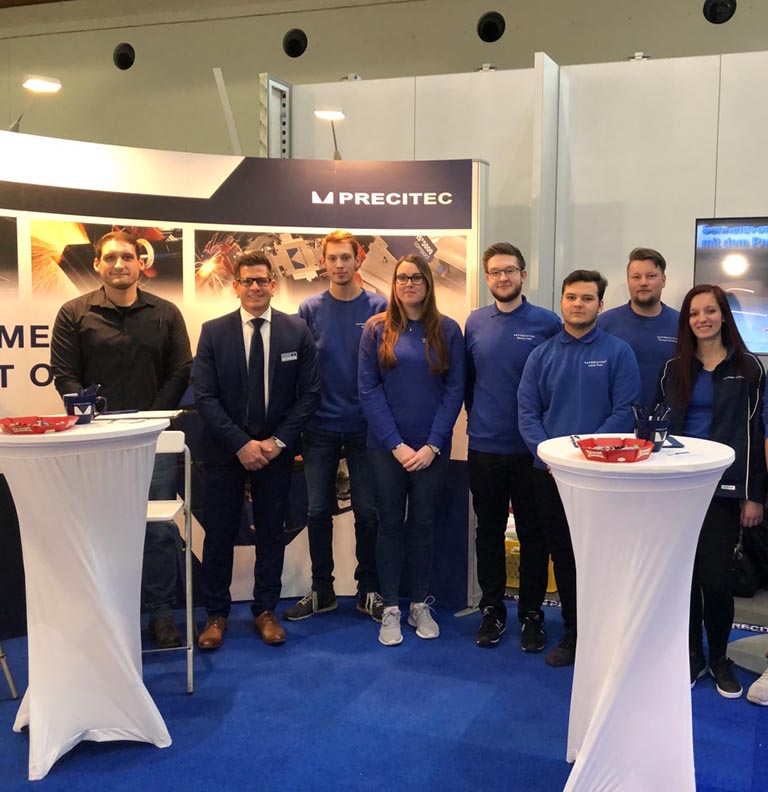 Precitec is specialized in material processing with laser technology and in optical metrology. In these areas we research, develop, and produce at the highest technical level. Our customers include global companies for whom our technologies are a decisive factor in improving their products. They also help them to produce in a resource-saving and ultimately more sustainable manner.
Training with us means helping to shape the future, learning and working at well-equipped workplaces and workshops, with modern machines and first-class occupational safety. A dedicated team of trainers and a well-organised training plan ensure that knowledge is imparted quickly and thoroughly, and that you have a varied time in the company.
A good working relationship is important. Team spirit and creativity are in demand when it comes to various events with new colleagues in the first weeks after the start of training. Whether we throw ourselves into the adventure together or practically construct a chain reaction, the feeling of community always wins.
Apply now and start a qualified future.

Our apprenticeship professions
Training with us means that you will learn many practical, and theoretical skills and acquire profitable knowledge.
Depending on the profession, these can be technical skills: for example metalworking, creating technical drawings, or programming CNC machines. In the commercial field the purchase of goods, sales as well as marketing strategies, or accounting and calculations of company processes play an important role.
An apprenticeship with us usually lasts three years and is an exciting mixture of theory and practice. By the way, your chances of being taken on are very good after successful completion. We have been growing continuously for years and many of our employees have been with us for a very long time.
Find out which vocational training Precitec offers!

Cutting machine operator (m/f/d)
During your training as a cutting machine operator you will learn metalworking and the production of mechanical components. You will also work with turning, milling, and drilling machines. The diverse tasks of a cutting machine operator become clear when you work in the various departments.
The training is varied and exciting.
Electronics technician for devices and systems (m/f/d)
The focus here is on the production of electronic parts and devices: for example, for measurement and testing technology. It plays an important role at Precitec. You will also learn how to install these devices, what comprises of maintenance and much more.
Electronics is a future field.
Click here for more information

Production mechanic (m/f/d)
In this apprenticeship you will learn how to skilfully machine metal, manufacture mechanical components and work with lathes, milling, and drilling machines. How to assemble entire assemblies and maintain modern machines is also part of the training.
Production mechanics are in demand.
You can find more information here
IT Specialist System Integration (m/f/d)
You will receive comprehensive and practice-oriented training in the IT field, with plenty of room for initiative, responsible thinking and action. In addition to classic IT operations, you will also get to know the world of IT security.
Companies need good IT specialists - because without IT, nothing works!
Warehouse logistics specialist (m/f/d)
In this training course, you will learn how the entire material flow and the booking of incoming and outgoing materials work. This is very important, and not only for Precitec, because a well organized warehouse is crucial for fast and effective production. You will get to know different departments, such as goods receipt, picking, and shipping.
Production and dispatch need good warehouse logistics specialists.
Here you can find out more
Industrial clerk (m/f/d)
In this apprenticeship you will learn how to professionally support and advise customers and how our products are sold. What it means to procure goods and accounting is also part of your training plan. During the training period, you will pass through the various departments and experience the many exciting aspects the profession has to offer.
Good business people are in demand in all markets of the world.
Here you can find more information
You will surely be interested in what others say about their training at Precitec. Have fun getting to know each other.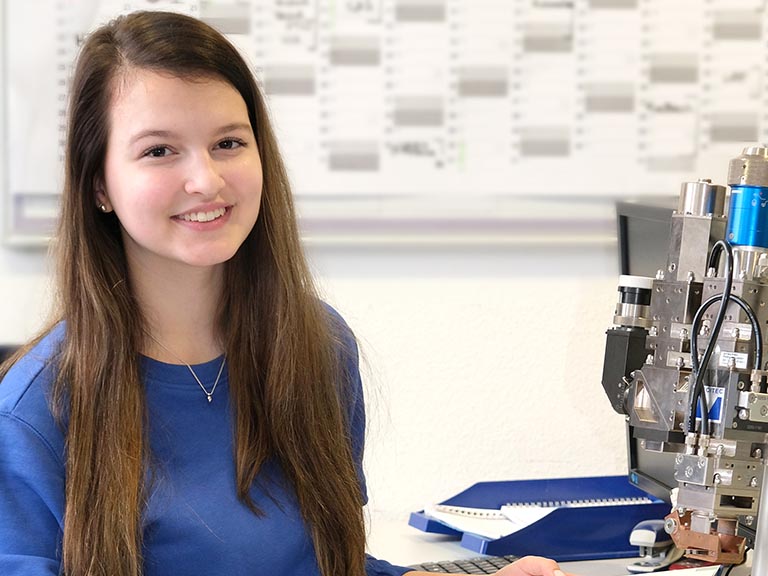 What our trainees and trainers say
"I have been working at Precitec since September 2019. During this time I was able to pass through various departments and gain a lot of experience. I am of the opinion that I have found the right job for me and that I can learn it here in the company as much as possible.
I was particularly surprised that despite my young age, I am allowed to work independently and am given a lot of responsibility."
If you are about to finish school and are interested in an apprenticeship with us, we would like to get to know you. This begins with your written application, by post or by e-mail. It should consist of these parts:
A short cover letter. Please write about the apprenticeship you are applying for and what you are particularly interested in. A few sentences about yourself and why you think you are particularly suited to the chosen profession will help us to get a first impression.

A curriculum vitae in tabular form. It should contain the schools you have attended, the current one at the top, and your last professional activities, if there are any. Internships or similar should also be included in your CV.

Your certificates. We need the last three school reports or professional certificates. If you want to obtain the advanced technical college entrance qualification or the general university entrance qualification, we need your secondary school leaving certificate and your last certificate, which you have received. Your school-leaving certificate you simply hand in to us.
Dates
Training usually starts in September. The application deadline for the current year runs until June 30th.

We look forward to receiving your application by mail or e-mail
First, we will confirm receipt of your application. After reviewing and checking the documents, we will get back to you, which may take a few days. The next step is for you to introduce yourself personally.
Deciding on a profession and how to make the most of your talents and skills is not so easy. Our advice - get a personal impression. We offer many opportunities to get to know our team of trainers and other trainees in your area.
We are looking forward to seeing you!
We are glad to help you with any questions you may have
Your Recruiting-Team: