Processing of different material thicknesses - permanently stable and fast
The ProCutter Thunder is the ideal solution for efficient and economical laser cutting in the medium power range. Whether for flatbed or 3D cutting - the cutting head plays out its advantages to the full: It offers permanently stable and precise operation. The highly dynamic drive ensures minimum non-productive times and flexibility. This controls the focus position fully automatically and delivers outstanding results when processing different material thicknesses. In addition, quick and easy maintenance of the head is possible.
The flexible cutting head is available as a 2D and 3D version: While the 2D version is suitable for integration into flatbed and simple tube and profile cutting systems, the 3D version is ideal for use in professional tube and profile cutting systems as well as in demanding free-form applications.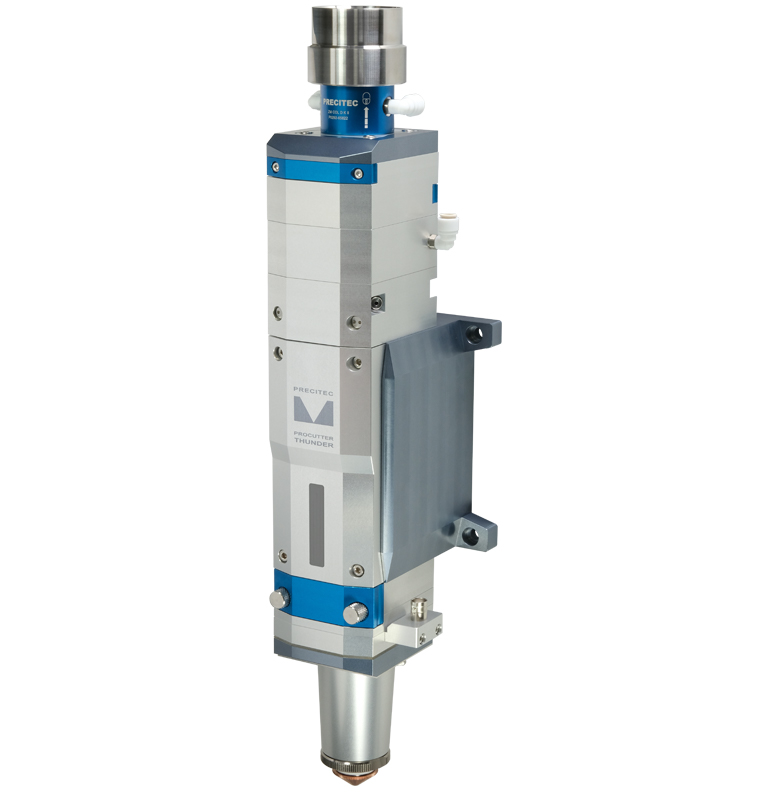 High cutting-edge quality

The basis for smooth and right-angled cutting edges with minimal burr is the ultra-stable and drift-free distance sensor system. Even at very high accelerations, it guarantees a constant distance between the component and the head. Cooling of the head provides reproducible results in series production.
Low service costs and less downtime

If the cutting head needs to be serviced, the design allows quick and easy access to the optics. A necessary change of these requires only half the time. Built-in protective glasses safeguard the valuable optics from the direction of the process zone and the fiber bushing, significantly extending service life.
max. laser power: 6.6 kW
Focal length collimation 2D | 3D: 100 mm
Focal lengths focusing 2D: 150 mm, 200 mm
Focal lengths focusing 3D: 200 mm
NAmax: 0.12
Dimensions (WxD): 116 x 113 mm
Vertical focus adjustment range: +15 to -20 mm
Our service for your productivity