Innovation is our business - then and now
The ICALEO 2019 took place in October in Orlando, USA. It is one of the most important international conferences in the field of laser material processing. Here, industry and science from all over the world meet to discuss the latest trends in laser technology and their applications. This conference will be hosted by the Laser Institute of America LIA for the 38th time. The Laser Institute of America was founded in 1968 with the participation of Dr. Ing. Arthur Schawlow and Dr. Theodore H. Maiman founded and serves the promotion of laser research, laser applications and laser safety within the framework of an international expert community. Numerous laser researchers from Germany, such as Nobel laureate Theodor Hänsch, are also members of the Laser Institute of America.
Precitec was awarded here in two different ways.
Dr. Markus Kogel-Hollacher, responsible R & D projects at Precitec, has been awarded with the Fellow Award by the Laser Institute of America (LIA) for his extraordinary work and innovative power over several decades. This is the highest ranking membership in the LIA.
Hänsch, are also members of the Laser Institute of America.
On the other hand, Mr. Jannik Lind, who is currently writing his doctoral thesis with us and the Institute for Strahlwerkzeuge (IFSW), was honored with 3rd place at the "Paper Award" for his scientific paper "HIGH-SPEED X-RAY IMAGING OF THE LASER CUTTING PROCESS".
The research approach of his dissertation is to examine the processes in the material during cutting. The main focus is on the opportunities and possibilities of beam shaping in laser cutting, for example, how a ring of laser light affects the cutting process and result.
Due to ever-increasing laser power, the cutting speed and cutting depth have been continuously increased in recent years. However, this also includes the formation of grooves, meaning that the cut edges are not smooth and even.
Users also want a fast speed (m/min), i.e. the highest possible number of meters per minute, in order to increase their production figures.
By using the collected data, conclusions can probably be drawn about the improvement of cutting processes and cutting heads.
We would like to congratulate our two colleagues and wish them all the best for the future.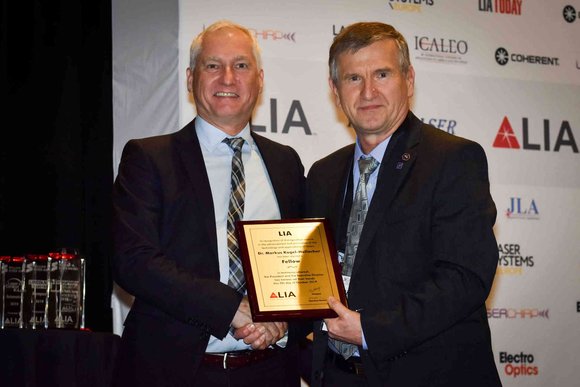 You may also be interested in this