Flying Spot Scanner awarded as inVISION Top Innovation 2020 
The Flying Spot Scanner from Precitec Optronik has been named one of ten products as inVISION Top Innovation 2020 by the trade journal inVISION and a jury of experts. The Flying Spot Scanner was named as particularly trend-setting and innovative.
Intelligent inspection system replaces X-Y axes
By combining OCT and scanner technology, the Flying Spot Scanner is the solution for very fast inline measurement tasks. The scanner makes it possible to reduce cycle times for measurements of layer thicknesses and topographies to a minimum. The mechanical linear movement of the X-Y axes is replaced by an optical measurement guided by a sophisticated mirror system.
Freely definable scan shapes
Even for complete surface scans, the mirrors in the measuring head play out their speed advantage and lead to a significant reduction in measuring time. Only relevant areas are scanned, and the scan shapes and filters are freely definable.
More information about the Flying Spot Scanner.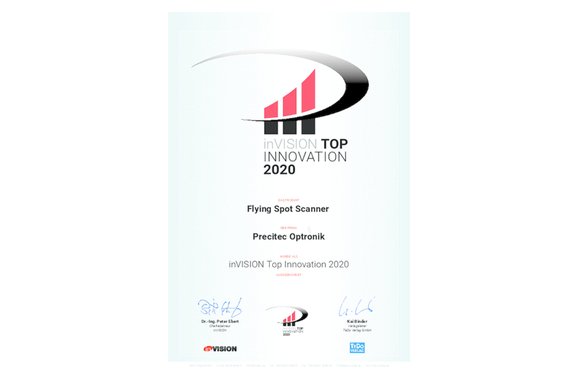 You may also be interested in this