Find out what others say about their training at Precitec and get to know our trainees and trainers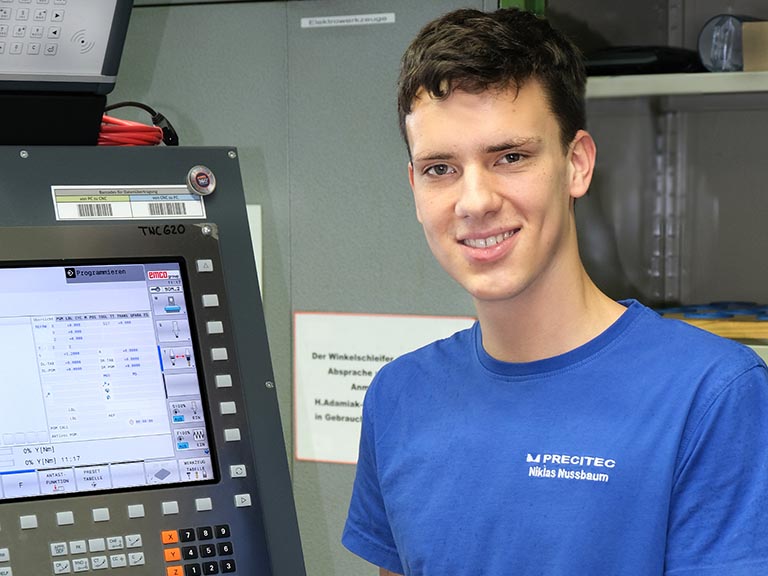 Trainee cutting machine operator
"I have been learning the profession of a cutting machine operator since September 2018 and I am really enjoying it. It is very varied and I am allowed to work independently a lot.
I think the trust that is placed in me, even though I have only been here for 4 months, is super great! Another reason that I like working here at Precitec is that everyone is friendly and welcomes me. I have also been in other departments to get to know the company better, which I find very interesting."
Trainee cutting machine operator
"At Precitec you learn the most important production methods quite quickly as an apprentice cutting machine operator, so that you can apply them quickly and find your own creative solutions. This means working independently and taking responsibility early on, whereby you learn every day through the varied work. There are also transfers to other departments, such as development or incoming quality management, where you always meet open-minded people who are happy to help and teach you something.
Further advantages are that you can also individually arrange your working hours during the training by using the flexitime model, that you always have free drinks available, and that you stay in contact with the other trainees by organising the training".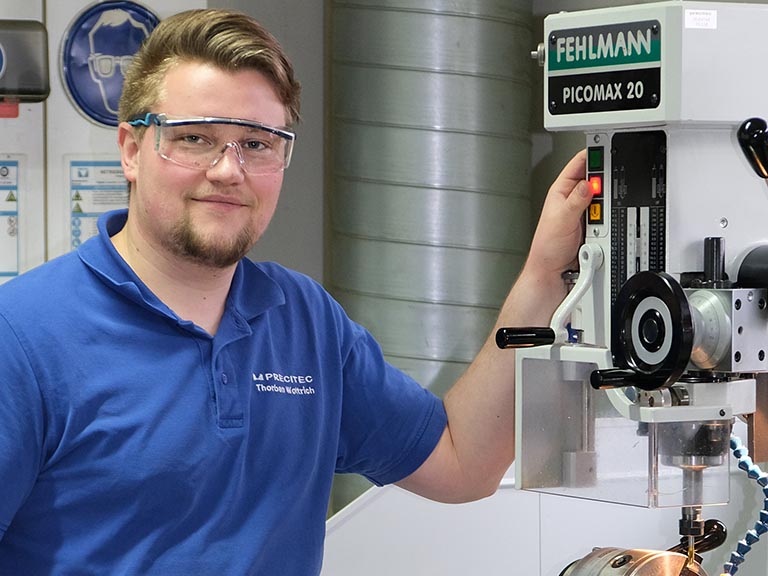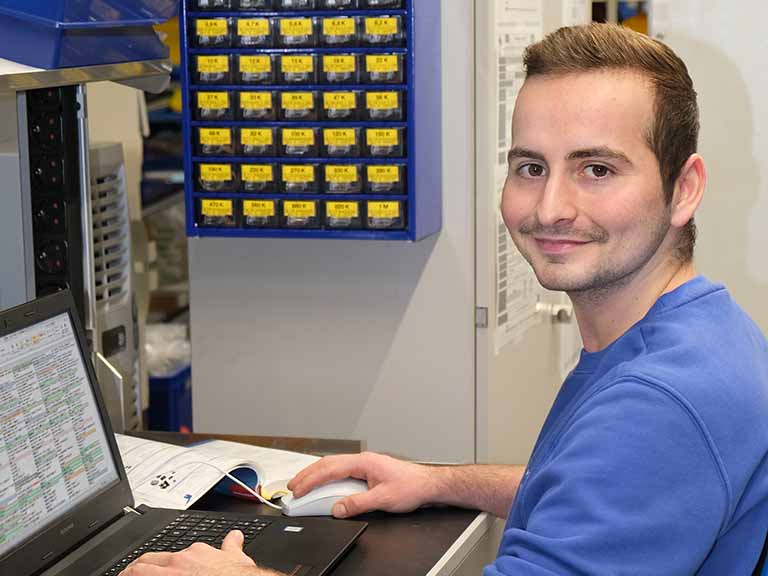 Trainee electronics engineer for devices and systems
"I find the training at Precitec as an electronics engineer for devices and systems very exciting and well organized. Already during the training I am given confidence and responsibility.
The pleasant working atmosphere helps me to find team-oriented solutions for tasks. In the course of my time at Precitec I gain a deep insight into the various departments, which contributes to a comprehensive and varied training".
Trainee electronics engineer for devices and systems
"Since September 2019 I have been working as a trainee at Precitec. I am learning the profession of an electronic technician for devices and systems, but I was already transferred to two other departments. Practical as well as theoretical contents are explained to me in a structured and understandable way.
I enjoy the apprenticeship very much because I am trusted and the working atmosphere is relaxed. My tasks are designed to be interesting."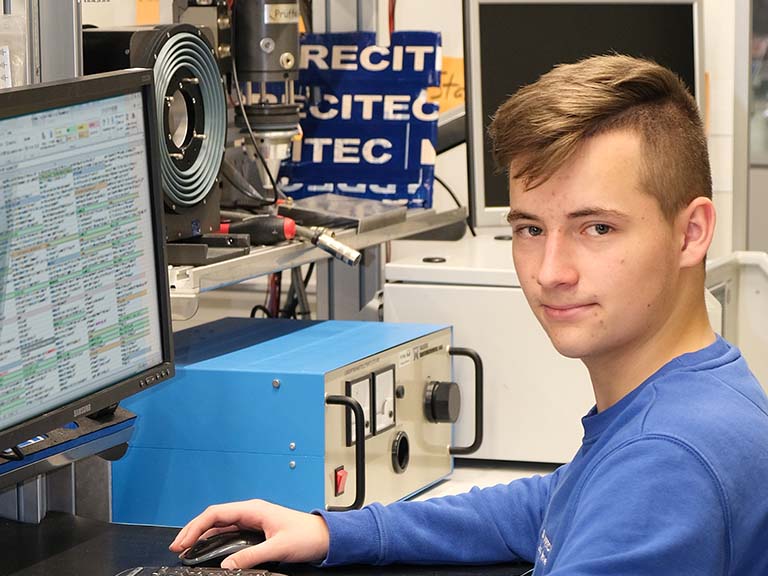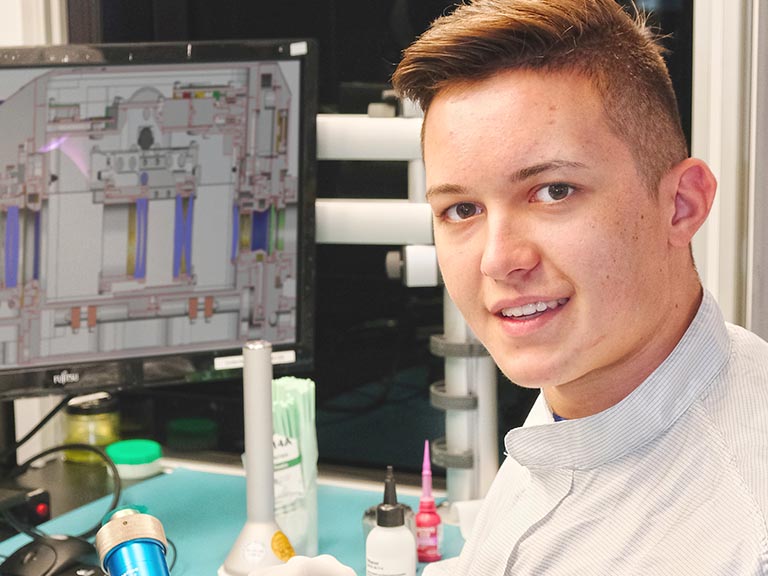 Trainee production mechanic
"Since September 2017 I have been completing my training as a production mechanic at Precitec. During this time, I have passed through various departments and have already been able to learn a lot. The assembly of different modules is a lot of fun and varied.
I look forward to coming to work every day and feel very much at home here."
Trainee production mechanic
"I have now been in training as a production mechanic at Precitec since September 2019. I like it very much so far because I can work a lot independently, such as producing different workpieces. Once instructed and off you go. If there are any problems or questions, our instructor is right there to help us.
Already after five months we received important orders which are used in the company. A lot is expected from us, but a lot is explained and repeated. So it is not unusual that we already know about things that we are still studying at vocational school. And to make sure you feel well looked after in the first week, an exciting, alternating program awaits the new trainees."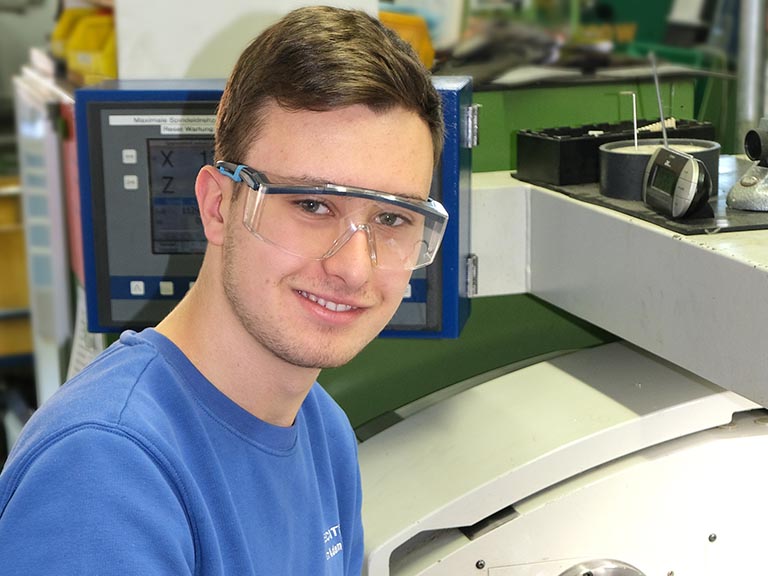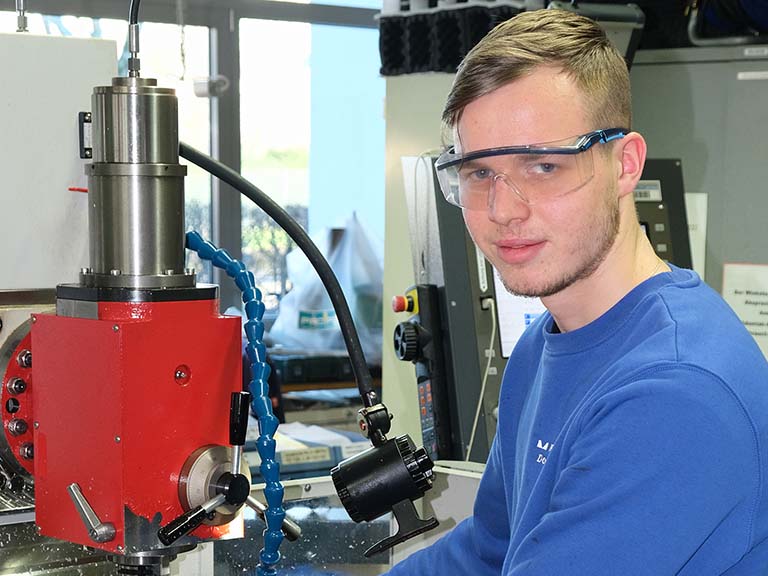 Trainee production mechanic
"In my training as a production mechanic, which I started in September 2019 at Precitec, I learn something new every day. Thanks to the good supervision and targeted support, my skills are constantly improving.
Due to the well-structured dual system, I learn a lot of new theoretical knowledge in the vocational school, which I can then put into practice in the company. Great importance is attached to good training, which is reflected, for example, in the fact that you are given enough time to complete tasks or to repeat things you have learned that you are not yet sure about".
Trainee as a specialist for warehouse logistics
"During my training as a specialist for warehouse logistics, I particularly like the varied work. Because of the different tasks, I am always busy at the PC during my working day - but I also enjoy the physical work in the warehouse very much. Moreover, this profession is very much in demand in today's retail sector.
Thanks to the high quality of the training at Precitec, one is optimally prepared for a future professional life."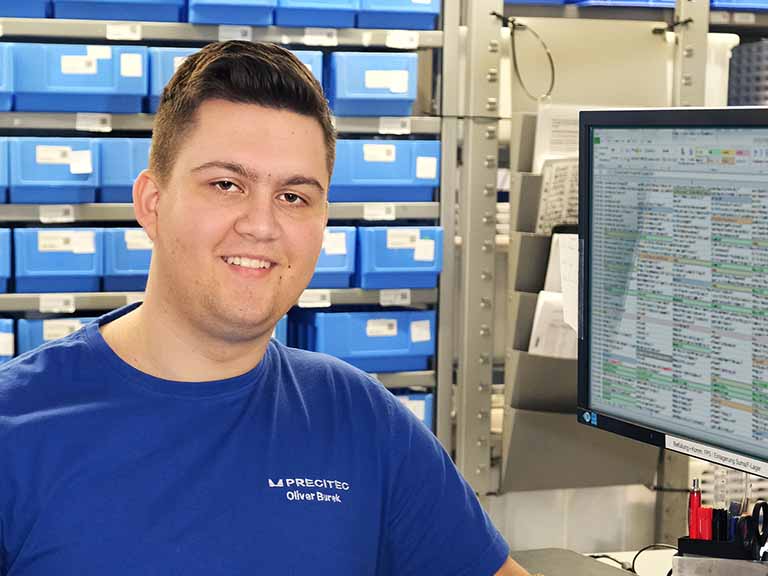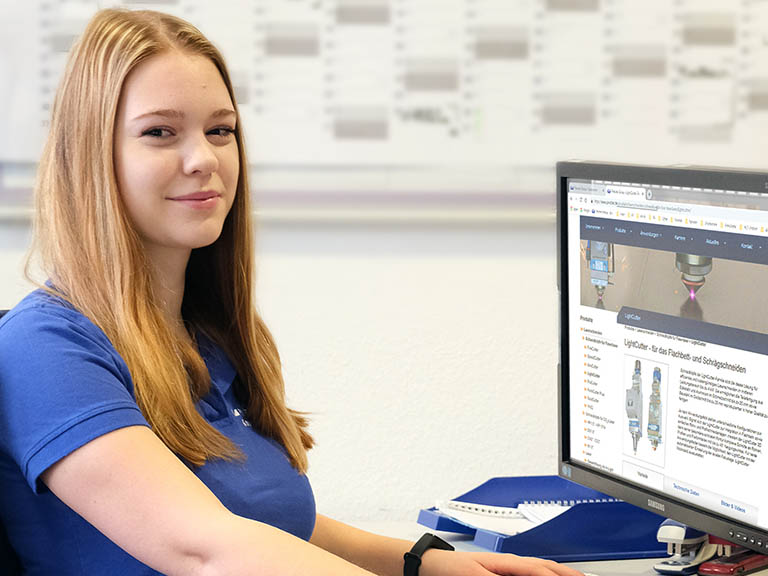 Trainee as an industrial clerk
"I started my training as an industrial clerk at Precitec in September 2019. The diverse areas of responsibility of the training surprise me daily, as you get an insight into all commercially relevant departments.
Working independently is supported by Precitec and teamwork is also very important. To strengthen the team of trainees, a starter week with many exciting events will be held at the beginning of the training."
Trainee as an industrial clerk
"I have been working at Precitec since September 2019. During this time I was able to pass through various departments and gain a lot of experience. I am of the opinion that I have found the right job for me and that I can learn it here in the company as much as possible.
I was particularly surprised that despite my young age, I am allowed to work independently and am given a lot of responsibility."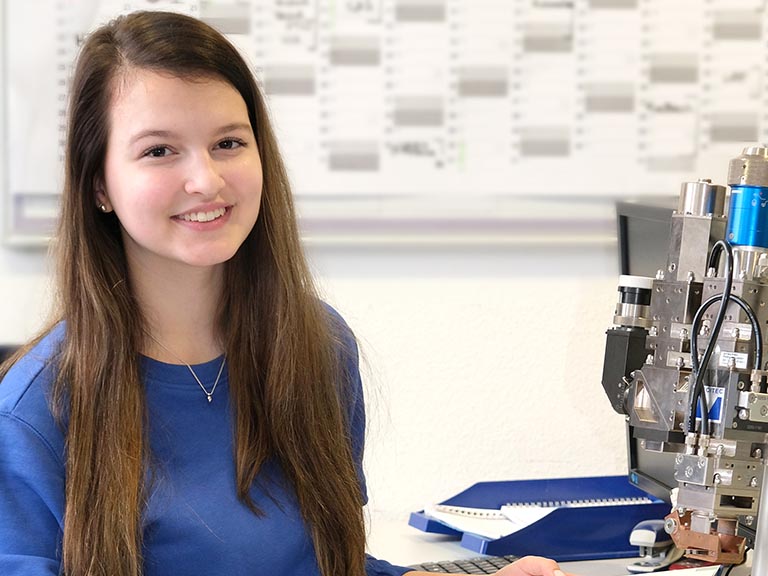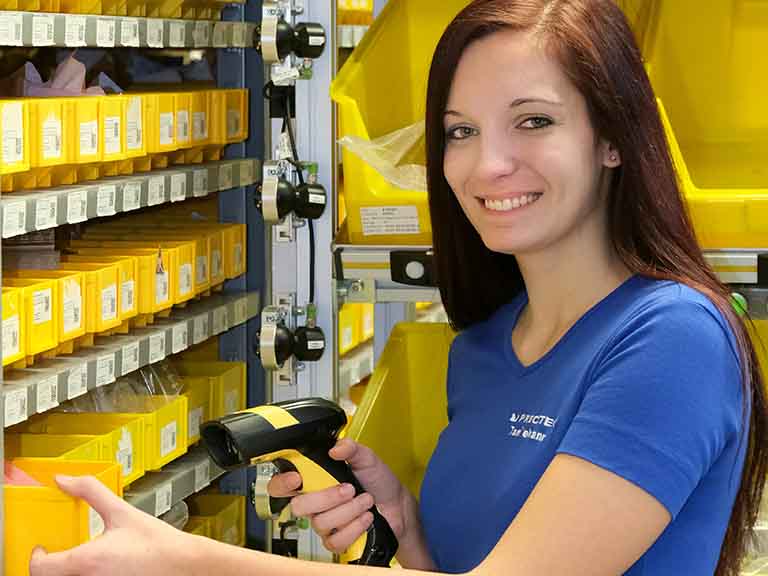 Trainee as an industrial clerk
"During my training at Precitec I get to know all business management processes as well as the interdepartmental background. This gives me a broad spectrum of specialist knowledge.
The working environment is very pleasant as the employees are always friendly and helpful. You are quickly integrated into the company and can identify with it."
Trainee as an industrial clerk
"I am happy to be part of the Precitec family since September 2018. In my training as an industrial clerk I pass through all departments. In the process, I gain insights into the varied tasks of my profession and get to know the company from the bottom up.
We trainees are allowed to work independently and take on responsibility. I particularly like the helpfulness of my colleagues and the pleasant working atmosphere, which is why I enjoy going to work in the morning."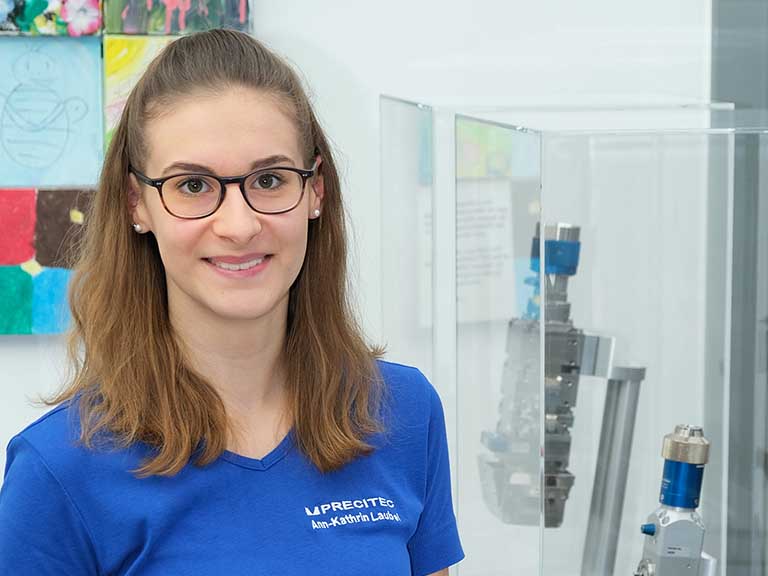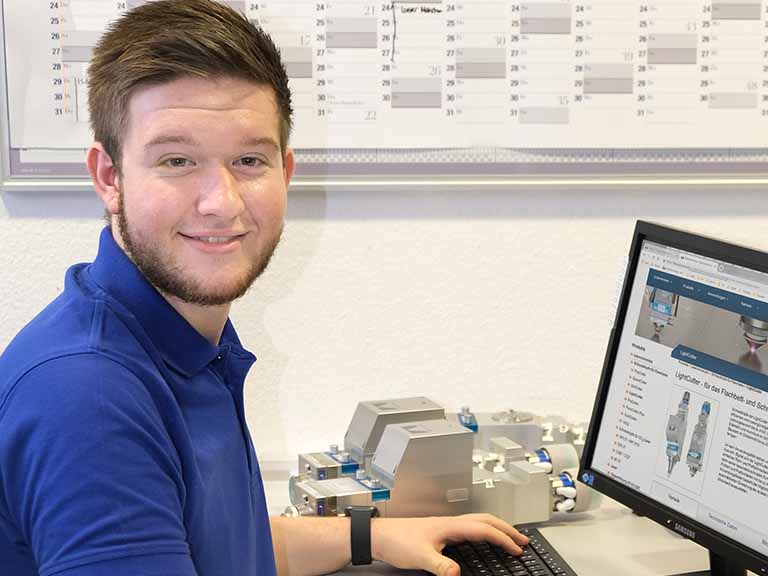 Trainee as an industrial clerk
"My training as an industrial clerk began in September 2018 - and I have really enjoyed coming to the company every day since then. The working atmosphere is great, everyone is available to answer any open questions and there is a flat hierarchy - this means that you can work independently at a very early stage, can make your own decisions and thus be given a healthy amount of responsibility.
As an industrial clerk you pass through every department in the company, the training is very varied and interesting and you can find the area that suits you best. If I had to chooce again, I would choose Precitec again."
Trainer electronic technician, training manager
"For me education is a matter of the heart! I have been responsible for training electronic technicians for devices and systems for over 16 years. Furthermore, I have been a member of the examination board of the IHK Karlsruhe for more than 15 years.
It fascinates me again and again to follow the development of these young people and to be allowed to accompany them at their start into their professional life. I follow with great interest how the former trainees" establish themselves in the company and develop both professionally and personally. Since I am a father myself, it is very important to me to approach the young people with fairness, knowledge and understanding."
Trainer cutting machine operators and production mechanics
"Training is my contribution to securing the future of Germany as a business location and the contract between generations. It gives me pleasure to see and help shape how a professional career begins and grows.
Knowledge is an obligation, and working with young people is a challenge within which one grows every day."
Trainer industrial clerks
"Training is a guarantee for the future.
At my previous employer I was responsible for the training of wholesale merchants and warehouse logistics specialists for 3 years.
In order to counteract the shortage of skilled workers and to counteract this at Precitec, training is an important pillar. I am pleased to be part of the training team at Precitec and to accompany young people on their professional path. Be it in the company training, in project work, with school problems, or also personal topics: the tasks are complex and sometimes also very challenging. However, the development and success of the trainees shows again and again that this work is worthwhile and gives a lot back. Training is not only about passing on knowledge, but also about educating oneself, gaining experience, and dealing with the latest changes and developments."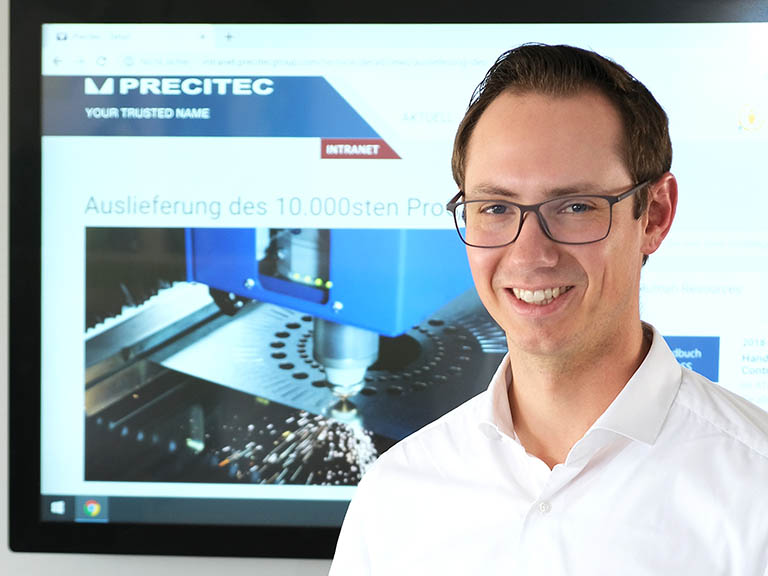 We are glad to help you with any questions you may have.
Your contact at the respective location are: