Find out what others say about their training at Precitec and get to know our trainees and trainers
Apprentice Industrial Clerk
"I started my training as an industrial clerk at Precitec in September 2022. I was very surprised by the openness and friendly interaction among each other. The introductory week with all the team events in September was also great, because it allowed me to get to know the other trainees, which made it easier for me to get started. The versatility of the training with different areas of application in the company continues to help me find and orient myself according to my abilities. So far, I have been given a lot of responsibility in each individual area and have been allowed to show initiative.
I am appreciated everywhere. Of course, I am also challenged, which has a positive influence on my personal development. I am open to the future and look forward to learning more skills."
Trainee as an industrial clerk
"I have been working at Precitec since September 2019. During this time I was able to pass through various departments and gain a lot of experience. I am of the opinion that I have found the right job for me and that I can learn it here in the company as much as possible.
I was particularly surprised that despite my young age, I am allowed to work independently and am given a lot of responsibility."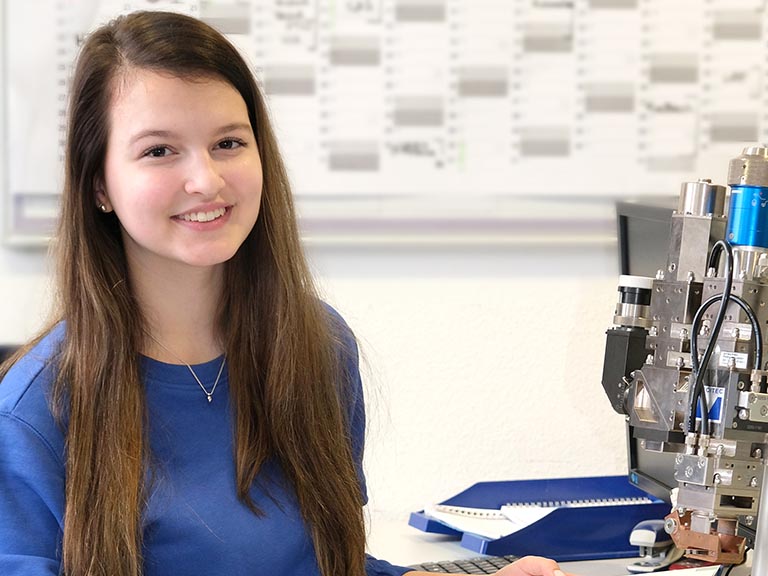 Trainer electronic technician, training manager
"For me education is a matter of the heart! I have been responsible for training electronic technicians for devices and systems for over 16 years. Furthermore, I have been a member of the examination board of the IHK Karlsruhe for more than 15 years.
It fascinates me again and again to follow the development of these young people and to be allowed to accompany them at their start into their professional life. I follow with great interest how the former trainees" establish themselves in the company and develop both professionally and personally. Since I am a father myself, it is very important to me to approach the young people with fairness, knowledge and understanding."
Trainer production mechanic
"With the final qualification of my master training at the end of 2017, Precitec gave me the opportunity to take care of the apprentices as production mechanics and to accompany them on their way to absolve their training.
It is exciting to see how the young people grow into skilled workers and how their personality also develops. It makes me proud to prepare the trainees for their further life and pursue their further education. In addition, I personally grow as an trainer and always get to know new ways of thinking and views.
As a trainer, I also feel responsible for the stability of our economy and would like to support it with well-trained specialists."
Trainer for warehouse logistics
"For 5 years, I have been a trainer for warehouse logistics expert. Training is an exciting task to accompany young people on their way to working life and to support them in your further development. The training ensures that weh ave the qualified personnel for the future in our company."
Trainer cutting machine operators and production mechanics
"Training is my contribution to securing the future of Germany as a business location and the contract between generations. It gives me pleasure to see and help shape how a professional career begins and grows.
Knowledge is an obligation, and working with young people is a challenge within which one grows every day."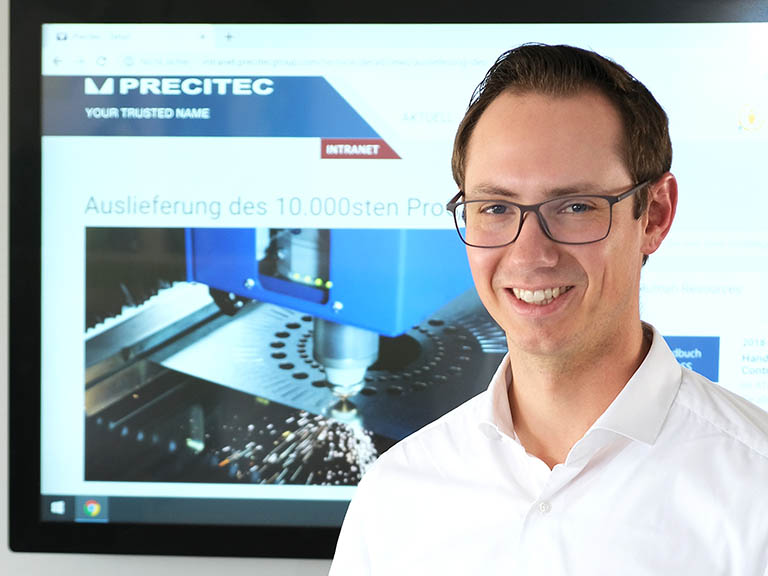 Trainer industrial clerks
"Training is a guarantee for the future.
At my previous employer I was responsible for the training of wholesale merchants and warehouse logistics specialists for 3 years.
In order to counteract the shortage of skilled workers and to counteract this at Precitec, training is an important pillar. I am pleased to be part of the training team at Precitec and to accompany young people on their professional path. Be it in the company training, in project work, with school problems, or also personal topics: the tasks are complex and sometimes also very challenging. However, the development and success of the trainees shows again and again that this work is worthwhile and gives a lot back. Training is not only about passing on knowledge, but also about educating oneself, gaining experience, and dealing with the latest changes and developments."
We are glad to help you with any questions you may have
Your Recruiting-Team: